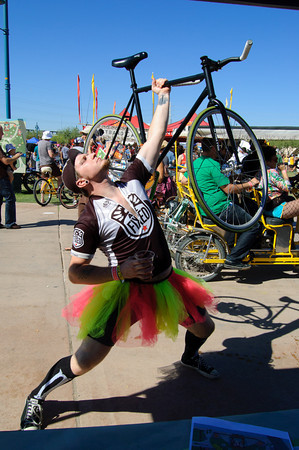 The League of American Bicyclists recently released their bike-friendly state status rankings and … drum roll please… ARIZONA MADE IT! Arizona is No. 10 in the rankings, meaning that we've climbed our way up the ranks thanks to statewide infrastructure and funding, education and encouragement, evaluation and planning and policies and programs!
The sunny state of Arizona ranks behind (in order of ranking) Washington, Colorado, Oregon, Minnesota, Delaware, Massachusetts, New jersey, Wisconsin and Illinois.
To see the league's comments on Arizona's rank in the top ten reviewed states, go to their website www.bikeleague.org, or click here to be directed to the Arizona fact sheet. For more about the rankings structure and to see how other states fared, click here.
While we've broken into the top ten, Arizona still has a long way to go especially with integrating biking into all of the state's transportation plans. Tempe Bicycle Action Group is a great place to start making those changes. Want to see your state climb the ranks? Get involved with our many education and activism programs and activities.
Read up on our activism board member's recent work with the Arizona Department of Transportation on our blog biketempe.org or by clicking here.