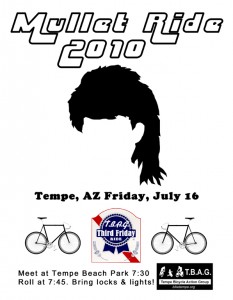 TBAG Third Fridays presents:
The MULLET RIDE
Show your redneck pride! Get out the Aquanet and peroxide and freshen up your do. This month we're heading over to the glitzy McDowell strip to sample some of the swankiest dives in east Phoenix.
We'll be a stone's throw from the light rail our entire route, so if you need to check out early no worries.
What to wear – jean cutoffs, tank tops, western-checked shirts – NO SLEEVES. Show your sweet farmer's tan, the ladies love this stuff. If you feel like your tresses ain't golden or curly enough to roll with the best, you can find wigs at places like Fun Services Party Store, Mardi Gras Costumes, or even at your local Goodwill.
MEET at Tempe Beach Park on Friday July 16th at 7:30 p.m. We'll roll out at 7:45. Bring lights and locks
This is a 21+ event, y'all bring your ID! Also, we'll be in traffic and it's real important everybody exercises safe behavior.
Be sure to RSVP to the facebook event here.