Join us online to help elect the new board!
Sunday evening November 15th from 5 to 7PM (or less) we will be chatting with nominees for director positions on the Tempe Bicycle Action Group board. The zoom link for the meeting is <now expired>

These candidates will be voted in for a 2 year term that ends in December of 2022. Hopefully by that time COVID is in our rear view mirror and we've just come off a wonderful Tour de Fat/Octoberfest Valet season, and getting our legs warmed up for the PHTTTTPH ride.

Rides, remember them? Even if you're not elected to a director position there is always a list we work to maintain of volunteers to help with, well, rides, and tabling, and other stuff as we come up with it.
Tempe's latest bicycle project map.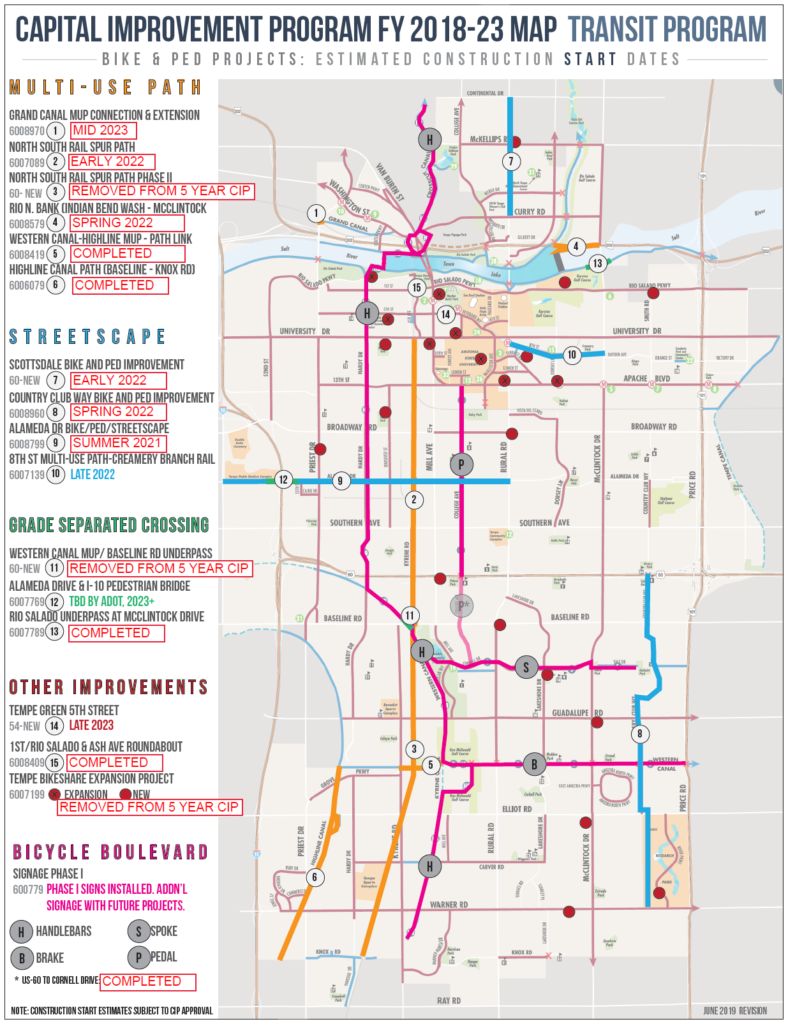 The bicycle folks in the City transportation department have been checking things off their list and it's not even Christmas yet. We've really been enjoying the McClintock underpass, Highline Multi-Use Path, and the Western Extension connector among the recently completed projects.

COVID's reach even extends to our city's budget for projects that are on the drawing board. Even though some of the above projects were removed from the 5 year Capitol Improvement Plan we will still be holding out hope that they'll get added back in the next cycle.

Speaking of 2023, ADOT the Arizona Department of Transportation, should be underway on the I-10 widening project which includes, if memory serves, 3 bicycle/pedestrian (and equestrian?) bridges in Tempe. Well two in Tempe, one at Alameda Drive and one at the Western Canal, and the equestrian bridge in the town of Guadalupe alongside Guadalupe Road. Maybe by 2025 we can ride Alameda into Phoenix!