Come to one of the biggest cycling events in the valley. New Belgium Brewing brings The Tour de Fat to Tempe Beach Part the first weekend in October every year. The Parade is from 11am to Noon, and the bike games, bands, shows and beer goes from Noon-5pm. Don't miss it!
Tempe Bicycle Action Group, The Mountain Bike Association of Arizona, The Central Arizona Mountain Bike Patrol, and Bike Saviours Bicycle Collective, derive their main source of funding from the Tour de Fat. New Belgium does not keep any of the proceeds. The event is staffed by volunteers and all proceeds go directly to these non-profit groups.
Feel free to email tourdefat@biketempe.org if you have questions, comments or volunteer updates on the Tempe Tour de Fat.
---
Tempe Tour de Fat Volunteer Sign up to Open in August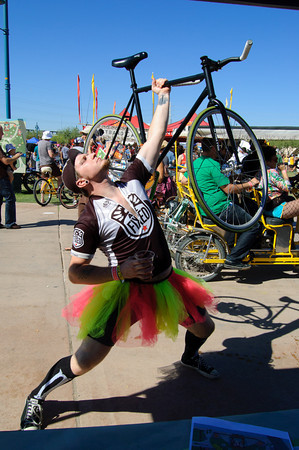 Volunteers are what make this event such a success and we will need your help again this year. Start getting your teams/team name/costumes together for the 2015 Tempe Tour de Fat, October 3rd at Tempe Beach Park. Volunteer sign up will open in the middle of August. Watch this blog and facebook for more info.
Want to be one of the first to know when it opens? Sign up on this list. We will email you when we open the volunteer sign up sheet.
Mark your Calendars! Tempe Tour de Fat is October 3rd
It's coming! The largest bike party in Tempe is coming to Tempe Beach Park Saturday October 3rd.  Request the day off work and start getting your costume ready.
Last year, the Tour de Fat raised $95,000 for local Arizona nonprofits like TBAG, Bike Saviours and the Mountain Bike Association of Arizona. This year, let's make it even bigger!
Join the event on facebook to get the latest updates on the event and keep an eye on the blog for volunteer info.
Tour de Fat Tempe week of events
Tour de Fat's coming up Oct. 4, so join your fellow greased up gearheads on an entire week of warm-up rides and shenannigans Monday – Friday Sept. 29 – Oct. 3, across Phoenix and Tempe! 
Monday 9/29
5:30 p.m. Meet at the Spoke and Wheel | 8525 N. Central Ave., Phoenix
6:30 p.m. Depart for the Yard |  5632 N. 7th Street Phoenix
Tuesday 9/30
5 p.m. Meet at Mellow Mushroom  | 14205 South 50th Street, Phoenix
6 p.m. Depart for Public House Garage 4855 E. Warner Rd. #A31, Phoenix
Wednesday 10/1
5:30 p.m. Meet at Boulders On Broadway  | 530 W Broadway Road Tempe
7 p.m. Join your peers for a mountain bike ride
9 p.m. WIN A NEW BIKE (!!) at Boulders on Broadway  | Get your raffle tickets anytime beforehand at Boulders. One winner will be drawn at 9 p.m. Must be present to win.
Thursday 10/2
6:30 p.m. Meet @ Tempe Beach Park  | Corner of Mill Avenue and Rio Salado Parkway
7 p.m. Depart for Papago Brewing Company  | 7107 E McDowell Road, Scottsdale
8:30 p.m. Arrive at Casey Moores and WIN A NEW BIKE*!  |850 South Ash Avenue Tempe
*hold the phone. Win a new bike again? Yeah. That's a thing.
Friday 10/3
6-9 p.m. Tap takeover at Handlebar  | 680 S Mill Ave., Tempe
Saturday 10/4
Better than Christmas, your birthday, Halloween, aunt Millie's cat's adoption day all together!
10 a.m. Register for the Tour de Fat parade
11 a.m. PARADE! Galavant through the streets of Tempe!
Noon – 5 p.m. Tempe Tour de Fat music, beer, bikes and babes at Tempe Beach Park
Tour de Fat 2014 Comes to Tempe
We are officially less than two weeks away from the biggest and best cycling event in the valley! That's right, the annual Tour de Fat is right around the corner so we've compiled some information to get you all caught up and ready to go for the big day.
What is it?
Touted by New Belgium Brewing as their traveling celebration of all things bicycle, Tour de Fat starts out with a costumed bike parade through the city but the finish line is only the beginning of the festivities. Being the tenth and final stop on the Tour de Fat circuit this year means that you get to experience the grand finale and there is nothing we are holding back! There is going to be musical acts, yo-yo performers, bike/costume/dance contests, and even vaudeville acts so make sure to bring the family and friends along for the fun.
Why should you go?
Do you like bicycles? Do you like good beer? Do you like supporting the community? Do you like having fun? If you answered yes to one or more of these than you have no excuse to not show up to Tour de Fat. Also, those are trick questions because by signing up to receive these emails we already know you answered yes to at least a few of them. Proceeds from beer sales and donations are being given directly to local non-profits consisting of Tempe Bicycle Action Group, The Mountain Bike Association of Arizona, The Central Arizona Mountain Bike Patrol, and Bike Saviours Bicycle Collective to benefit bicycle culture and advocacy. Tour de Fat serves as the main source of funding for these groups so come sip an ice-cold New Belgium brew for a good cause.
When is it?
The costumed parade ride will start at 11 a.m. on October 4th, but registration for the ride will open up an hour beforehand, at 10 a.m. Remember we said that it was a daylong celebration? Well we weren't kidding! After the parade there will be tons of entertainment to keep you busy until the big finale starts around 5 p.m.
Where is it?
Tour de Fat will be taking place at Tempe Beach Park, 620 N. Mill Avenue, Tempe, AZ. Also visit here for a map of the parade ride!
How much does it cost?
The best things in life are free which is why there is no charge to come out and partake in the festivities! Also, if you really like free stuff you can always pre-register for the parade online and if you chose to make a donation you will be rewarded with some awesome, free Tour de Fat gear such as a frog bike light or a license plate. That can all be taken care of here.
Why can't it be sooner?
We know that you're more excited than ever for Tour de Fat and while it may seem far away, these next couple weeks or so will go by fast. What does this mean for you? Start picking out your costume, decorating your bike, and spreading the word about the event. Us over here at T.B.A.G. look forward to riding and celebrating with you on October 4th. Also, stay tuned for upcoming pre-TdF ride information coming soon. Happy Cycling!
Call for volunteers: Tempe Bike Month's Tour de Tempe
More than 1,000 people are expected to participate in the Tour de Tempe community bike ride on April 6 from 7:30 – 11 a.m. at Kiwanis Park, 6111 S. All America Way in the west parking lot north of Guadalupe Road across from the batting cages. This free 10-mile bike ride is led by members of the Tempe City Council.
The City has requested TBAG volunteers. On the morning of Sunday April 6, 2014 we will need 12 volunteers: 5 people to ride in the crowd and help out when necessary and 7 people to stand at locations along the route where people could make a wrong turn.
We will also need a couple people manning the TBAG booth during registration, which begins at 7:30 am, and following the ride. We will have a 10 x 10 tent, an 8 foot table, and 2 chairs provided for us. We will need to supply the TBAG propaganda. Breakdown for the event usually begins around 11 am.
All volunteers will get a free t-shirt and breakfast, so provide your t-shirt size when you respond.
We're using VolunteerSpot to organize our upcoming activity.
1. Click this link to go to our invitation page on VolunteerSpot: http://vols.pt/yrdjFR
2. Enter your email address: (You will NOT need to register an account on VolunteerSpot)
3. Sign up! Choose your spots – VolunteerSpot will send you an automated confirmation and reminders. Easy!
Note: VolunteerSpot does not share your email address with anyone (at least that's what they've promised). If you prefer not to use your email address, please contact Ashlee or I and we can sign you up manually.
Ashlee (ashlee@biketempe.org), our excellent Rides Coordinator, is
kindly organizing this event (I'm just sending the email).
See ya there!
-scott